Let me start my story with the moment of radically deciding to quit my job. I left the world of corporate consulting a while ago, in 2016 to be precise. I didn't hate it, but it was lacking something for me at some point. It's the typical story of everything going well, you're relatively safe (financially, socially), busy climbing this ladder and everything is laid out – but what are you really contributing to the world? I was 27, bought my apartment, and was making more money with strategic brand advice than my dad did as a teacher. I thought: something is seriously wrong with our priorities as a society.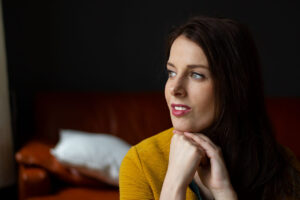 This reflection happened while I was going through a difficult personal time, working through trauma and loss. Becoming aware of the many masks behind which I was hiding, so scared to show my real self. Being in that moment of reflection and vulnerability left me with a deep desire to change and challenge how we are being and acting in the world. I think that the only way we can transform is from the inside-out. Change starts within ourselves and requires us to challenge our belief system. As individuals, we take ourselves into organisations. We participate as individuals in society. So if we talk about systematic change, we talk about human change. From individual, to organisation, to society – we are all connected. Organisational systems are nothing more than a collection of people believing in certain stories and behaving in a way to uphold them. So I made it my mission to help people and businesses grow from purpose, by breaking limiting beliefs on how to live, work and lead. Led by my own purpose to redefine success for more authentic being and doing in the world. And I do that through life & career coaching and brand consulting.
Thanks for taking the time to read my story. I am keen to hear yours too! Feel free to reach out to me for a get to know each other chat. 

Feel free to connect with me on LinkedIn